Knjige: 5798 :: Saveti i vesti: 13053 :: Ukupno pretraga: 152774
Datum: 2011-05-05
Pregleda(30 dana/ukupno): 32 / 3438
50 Best Microsoft Blogs
Microsoft, despite increasingly stiff competition, continues to remain at the forefront of software and computer innovation and progress. Tech fanatics who look to follow in the stead of Steve Jobs and Bill Gates would do well to track the ebbs and flows of their ingenious company and study its inner workings. Heading to a local library for a few books on the subject is a nice way to start. We recommend that those truly impassioned by Microsoft take a serious perusal of many of the 50 Microsoft blogs we've chosen to spotlight here. Updated daily, and all well written, you're guaranteed to become Microsoft savvy with every visit.
Top Five
The Rest of the Best
LINK.
MI IMAMO KNJIGU ZA VAS:
Komentari: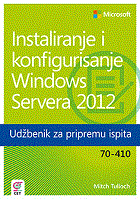 Instaliranje i konfigurisanje Windows Servera 2012 - Udžbenik za pripremu ispita 70-410
Cena: 2,200.00
10% popusta za kupovinu 2 i više knjiga.
Namenjen IT administratorima preduzeća kao pomoć za razvijanje posebnih znanja koja su im potrebna u obavljanju njihovih svakodnevnih poslova, ovaj Udžbenik za pripremu ispita posebnu pažnju usmerava na konfigurisanje servisa neophodnih za uspostavljanje, upravljanje i održavanje infrastrukture Windows Servera 2012. Stalnim proširivanjem stečenih praktičnih veština kroz niz lekcija, vežbanja i predloga za samostalan rad ova knjiga vam pomaže da svoj posao obavljate na najbolji mogući način.
[Queries: 22] [0.1225 sec.]